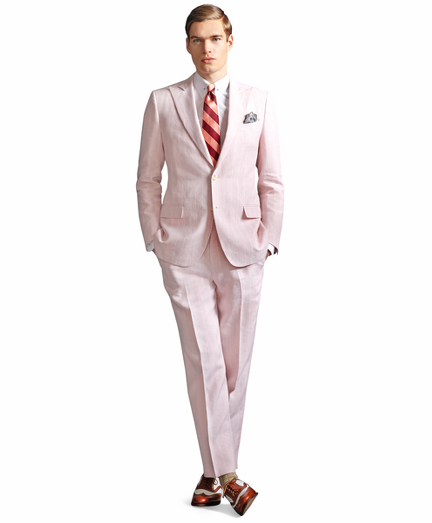 I've been sitting on this one for a while, but I just can't get it off my mind. When I read the section in Tyson on queer theory, I was struck by a dichotomy in the kinds of evidence Tyson considers as part of a queer reading, both in her general discussion and as applied to The Great Gatsby. One kind of evidence seemed to deal with the experience of queer or gay sexuality: the prominence of same-sex relationships, explorations of the internalized homophobia that gay persons may develop as a consequence of homophobic or heterosexist culture, or the general presence of "transgressive" sexuality. When Tyson then searched for this kind of evidence in Gatsby, I found myself persuaded. Nick does have a romantic admiration for Jay Gatsby, and now that I think about it, when he speaks of his liaisons with women, he does seem like he's hiding something.
The other kind of evidence Tyson mentions are "gay and lesbian 'signs'", and when I read these, I found myself confused and a little disturbed. The section on queer criticism makes it clear that sexuality cannot be defined by binaries such as male/female and gay straight, or limited by a heterocentrist definition of norms. Yet Tyson, and apparently other queer critics, depend on "characteristics that heterosexist culture stereotypically associate with gay men or lesbians" to herd characters into categories. These characteristics include "'feminine' male characters and 'masculine' female characters" (340). For example, Tyson mentions "Gatsby's fastidious grooming and flamboyant clothing" such as his his pink suit, a color associated with femininity, as signs of his gay sexuality. She even cites the words of Tom Buchanan, the universal bigot: "'An Oxford man?… Like hell he is! He wears a pink suit'" (345).
Isn't saying "My evaluation of this man's sexuality has exactly the same support and conclusion as this homophobe's" a strange way to back up your argument? Is it damaging to define queer sexuality in literature by these stereotypes, even when no stigma is intended?
Edit: Shout out to Professor Scanlon for pointing out I meant  this guy…
and not this guy.